Tri-State Delivery and Assembly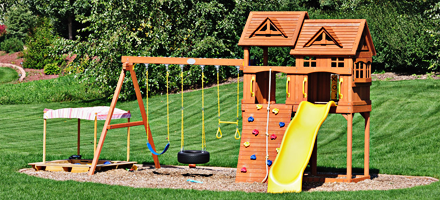 We are the premier Swing Set Installation service in the Northeast USA.
We are the trusted installation provider for some of the biggest distributors and sellers of playsets in the world, including: including:
Sam's Club
Home Depot
Costco
Toys R Us
Walmart
Lowes
BJ's
We have serviced thousands of happy customers over many years, and would be honored to serve you as well!
Why Choose Us?
How does Tri-State compare to the competition?
We beat them, hands down, on Time, Quality and Price.
Let's see how:
Time – How Long Does it Take Us to Install and Assemble a Swing Set?
We are able to get most playsets done in 4-6 hours. What about the other guys? We put em to shame:
Tri-State: 2-6 Hours
Other Playset Companies: 10-12 Hours
Landscapers, Handyman and Contractors: 72+ Hours
That's an astounding 95%+ faster than other handymen, contractors or landscapers, and 50%+ faster than other swing set professionals.
Quality – How Well Are the Swing Sets Assembled?
Consider this, a large portion of our work is actually "Assembly Rescue", where we come to the rescue and fix a swing set that was abandoned or put together incorrectly.
Unfortunately, these "Rescue jobs" will often carry higher costs with the need to correct mistakes or replace parts.
But you don't have to worry about that with us.
Tri-State gets it right, every time.
And we do it fast, so your kids are ready to play on the new set in the same time it takes for the other guys to get to Step 1 on the instruction manual.
All of our work is backed by our TRI-STATE WORLD CLASS GUARANTEE so you can relax knowing that your set is built safely and with love.
Find a Better Price? Tell us!
Let's get to the bottom line. What about Price?
Our quality and prices are top of the line, but if you happen to get a better quote from someone else, let us know! As part of our Price Match Consideration Program we will attempt to beat any quote from our competition.
Simply provide us with a written quote from someone else, and we will try to beat it.
Need a quote from us? No problem!
Just Call:
Or Email:
tristatedeliveryandassembly@gmail.com
To Get A Free Quote and Schedule your Appointment Today!
Examples of Our Work – Built Safely and With Love
View some of our beautiful finished products below:
What Locations Do We Serve?
Counties we serve (or call us for special arrangements, we are flexible):
Massachusetts: Entire State.
New York: Dutchess County, Orange County, Putnam County, Rockland, Ulster and Sullivan Counties, Westchester and the Bronx.
New Jersey: Sussex, Passaic, Bergen, Hudson County, Mercer County, Essex County, Morris and Union Counties.
Connecticut: Fairfield County, New London County, Middlesex County, Hartford County.
Pennsylvania: Greater Philadelphia Area
SCHEDULE AN APPT TODAY! 845-818-0068
We offer the following playset services through the Tri-State area:
Swing Set Installation Atlanta
Swing Set Installation Daytona Beach
Swing Set Installation Philadelphia