Tri-State Delivery and Assembly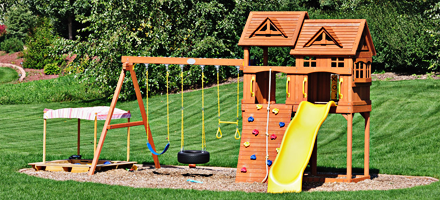 We are the premier Swing Set Installation company in the Florida.
We are the trusted installation company of some of the biggest brands in the world, including:
Costco
Toys R Us
Walmart
Sam's Club
Home Depot
Lowes
BJ's
Hundreds of successful installations and relocations over the years, our experience cannot be beat!
Why Choose Us?
How does Tri-State stack up to the competition?
Well, we outperform the competition on all 3 criteria of Time, Quality and Price. Let's see how:
Time – How Long Does it Take Us to Assemble a Playset?
We are able to get most sets done in 4-6 hours. What about the other guys? We put em to shame:
Tri-State: 2-6 Hours
Other Playset Companies: 10-12 Hours
Landscapers, Handyman and Contractors: 72+ Hours
That's an astounding 95%+ faster than other landscapers, handyman or contractors, and 50%+ faster then other playset professionals.
Quality – How Well Are the Swing Sets Assembled?
Consider this, a large portion of our work is actually "Assembly Rescue", where we come to the rescue and fix a swing set that was abandoned or put together incorrectly.
Unfortunately, these "Rescue jobs" will often carry higher costs with the need to correct mistakes or replace parts.
But you don't have to worry about that with us.
Tri-State gets it right, every time.
And we do it fast, so your kids are ready to play on the new set in the same time it takes for the other guys to get to Step 1 on the instruction manual.
All of our work is backed by our TRI-STATE WORLD CLASS GUARANTEE so you can relax knowing that your set is built safely and with love.
Find a Better Price? Tell us!
Let's get to the bottom line. What about Price?
Our quality and prices are top of the line, but if you happen to get a better quote from someone else, let us know! As part of our Price Match Consideration Program we will attempt to beat any quote from our competition.
Simply provide us with a written quote from someone else, and we will try to beat it.
Need a quote from us? No problem!
Just Call:
Or Email:
tristatedeliveryandassembly@gmail.com
To Get A Free Quote and Schedule your Appointment Today!
Examples of Our Work – Built Safely and With Love
View some of our beautiful finished products below:
SCHEDULE AN APPT TODAY! 845-818-0068
More About Playset Assembly
When spring and summer draw near, most parents in Daytona Beach, Florida, are always trying to come up with ways to make the holidays fun for their kids. And while a few will make travel plans, some parents simply find interesting activities that can keep their kids engaged. One such way of getting the kids out of the house to have fun is by installing a swing set.
Today, the swing sets are no longer simple and made to serve one purpose. Instead, they are multipurpose and include spiral slides, rock-climbing walls, skybox play decks as well as bridges. That said, swing sets are an important investment in your home that is vital for your children's development. As such, when you have made a decision to purchase a swing set, it is important to hire the services of a swing set installation company in Daytona Beach, Florida like Tri-State Delivery and Assembly to get the job done right the first time. Below are a few reasons why it's important to work with professionals.
Why Hiring a Professional Swing Set Installer is Better
Today, it's easy to go to YouTube and find a tutorial about any DIY project – swing set installation included. And while swing set installation may look like an easy task especially when you watch a tutorial, that is rarely what happens. Here are a few reasons why hiring a professional company is by far the best option when it comes to swing set installation in Daytona Beach, Florida.
There is a reason why when you need the perfect family photo taken, you hire an experienced photographer and don't take the photos yourself. You are guaranteed of quality photos done professionally after the shoot is done. It's the same thing with swing set installations as you are able to eliminate the hassle and stress of having to do it yourself. By choosing Tri-State Delivery and Assembly, the professional swing set installers in Daytona Beach, Florida; you will be at peace knowing that your kids' playground is both safely and properly installed and meets all the necessary standards.
As a career parent who has to work 8-9 hours in a day and still go home and take of the family, where do you get the time to install a swing set? Of course, some parents are still able to, but majority rely on professional companies as this saves them time that they actually don't even have. Remember, your swing set needs to create excitement, inspire fun and enable you to have some quality time with your family and not be the cause of unnecessary stress due to installation.
Did you know that by working with Tri-State Delivery and Assembly for the installation of your swing set you are able to get support and help with its maintenance? Yes, these are just some of the benefits that come with getting a professional to install your family's swing set. Besides, proper maintenance of your swing set is key if you want to have it around for a long time.
Swing sets are already expensive and getting them installed by a professional will still require you to dig into your pockets. However, what is more, expensive is assembling the swing set haphazardly, and it gets spoilt, or a neighbor's kid gets injured on the faulty swing set. But if you work with a professional swing set installer, you won't have to worry about such.
Besides the knowledge and experience, professional installers like Tri-State Delivery and Assembly have the right equipment needed to get the job done while giving the desired results. Give us a call today and let us help you save money and time while getting the best service swing set installation service in Daytona Beach, Florida.
We've also put together a short, informative video for your reference:
Other Areas we Serve:
Swing Set Installation Atlanta
Swing Set Installation Philadelphia