Tri-State Delivery and Assembly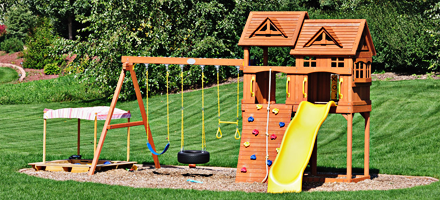 We are the premier Swing Set Installation company in the Atlanta.
We are the trusted installation company of some of the biggest brands in the world, including:
Costco
Toys R Us
Walmart
Sam's Club
Home Depot
Lowes
BJ's
Hundreds of successful installations and relocations over the years, our experience cannot be beat!
Why Choose Us?
How does Tri-State stack up to the competition?
Well, we outperform the competition on all 3 criteria of Time, Quality and Price. Let's see how:
Time – How Long Does it Take Us to Assemble a Playset?
We are able to get most sets done in 4-6 hours. What about the other guys? We put em to shame:
Tri-State: 2-6 Hours
Other Playset Companies: 10-12 Hours
Landscapers, Handyman and Contractors: 72+ Hours
That's an astounding 95%+ faster than other landscapers, handyman or contractors, and 50%+ faster then other playset professionals.
Quality – How Well Are the Swing Sets Assembled?
Consider this, a large portion of our work is actually "Assembly Rescue", where we come to the rescue and fix a swing set that was abandoned or put together incorrectly.
Unfortunately, these "Rescue jobs" will often carry higher costs with the need to correct mistakes or replace parts.
But you don't have to worry about that with us.
Tri-State gets it right, every time.
And we do it fast, so your kids are ready to play on the new set in the same time it takes for the other guys to get to Step 1 on the instruction manual.
All of our work is backed by our TRI-STATE WORLD CLASS GUARANTEE so you can relax knowing that your set is built safely and with love.
Find a Better Price? Tell us!
Let's get to the bottom line. What about Price?
Our quality and prices are top of the line, but if you happen to get a better quote from someone else, let us know! As part of our Price Match Consideration Program we will attempt to beat any quote from our competition.
Simply provide us with a written quote from someone else, and we will try to beat it.
Need a quote from us? No problem!
Just Call:
Or Email:
tristatedeliveryandassembly@gmail.com
To Get A Free Quote and Schedule your Appointment Today!
Examples of Our Work – Built Safely and With Love
View some of our beautiful finished products below:
SCHEDULE AN APPT TODAY! 845-818-0068
More About Playset Assembly
As a parent, it's very important to allow your child enough playtime while still ensuring they are safe. One way of doing this is by installing a swing set at your home. Besides homes, our team has experience installing swing sets for different commercial playgrounds as well as schools. When you need to install any swing sets, it's important always to hire the services of an experienced swing set installation company in Atlanta such as Tri-State Delivery and Assembly who have the knowledge and experience.
With more than ten years of experience in swing set installation in Atlanta, we pride ourselves in the services that we provide as we always go the extra mile to ensure our clients are satisfied with our services and happy as well. Besides, no job is too big or small for us. Below are some factors that you need to consider before installing a swing set.
Factors to Consider
Swing sets are made from different materials – wood, plastic, and metal. And while swing sets made from plastic are cheap, they are least durable. Metals, on the other hand, are affordable and durable but may not be pleasing in terms of aesthetics. Wood, on the other hand, is not only durable but is attractive as well but is slightly expensive. Depending on your area, it can be hard making a decision on which material to choose for your swing set. Our team is also able to advise you based on where you live and the space that you have.
Swing sets are not supposed to be installed just anywhere. There may be need to remove rocks, trees, and roots removed among other things. As such, it can be a costly affair that is very crucial. And while site preparation can be a DIY project for you, it's advisable to hire the services of a professional to ensure that everything is right for the installation of the swing set in Atlanta.
Assembly and Installation of the Swing Set
Some people tend to think that they can simply buy a swing set and install it by themselves. This is far from the truth. Swing set installation is a whole process on its own that is best suited for experts like Tri-State Delivery and Assembly in Atlanta. Besides, with us, you will not only save time, but you will have the peace of mind that the job is done right the first time.
Call us Today!
Why worry about swing set installation in Atlanta while we are here? If you are looking to install a swing set for your family, give us a call today and let us help you create fun memories with them.
We've also put together a short, informative video for your reference:
Other Areas Serviced:
Swing Set Installation Daytona Beach
Swing Set Installation Philadelphia